Applies to:
SCS Cyber Backup 12.5 Hardened Edition
Use Case
WinPE 32-bit media created in the 64-bit product may not accept keys and have other issues when attempting to use.
Symptoms
The version of the media creation will not match your installed build on the machine that created the media.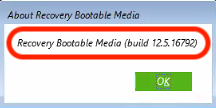 Also the naming of the media will not reflect the "SCS" naming.


Root Cause
An incorrect link created causes the wrong version of the 32-bit media to be downloaded.
Solution
This issue has been resolved in update 4.8.