Applies to:
Acronis SCS Cyber Backup 12.5 Hardened Edition
Acronis Cyber Backup 12.5
Acronis Cyber Protect 15
Use Case
You try and delete a backup archive from the management console but the archive does not exist in that location anymore.
Symptoms
When attempting to delete the backup from the management console it gives an error similar to this: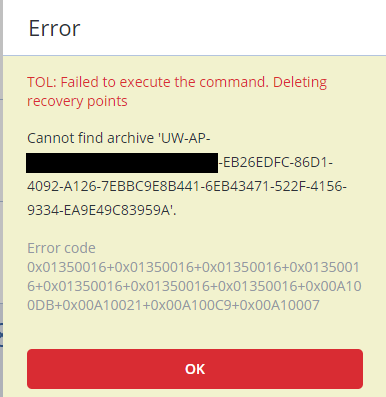 Root Cause
The backup does not exist anymore at this location. It could have been moved or deleted outside of the management console.
Workaround
Open explorer and navigate to the location where this backup existed

Create a new text document

Rename this file to the backup in question
(EG: "UW-AP-EB26EDFC-86D1-4092-A126-7EBBC9E8B441-6EB43471-522F-4156-9334-EA9E49C83959A.tibx") (Note: make sure to include the .tibx extension)

Go into the management console, refresh location and then delete this backup again